With the start of spring, it's now the perfect time to start thinking about your backyard remodel! During the warmer months, you spend a lot more time outdoors, so you might as well make it an enjoyable space. Each year designers share their predictions of the top trends for the year, and we want to help you incorporate them to create the patio of your dreams. Let's look at what's trending for your backyard patio in 2020!
Indoor Living, Outdoors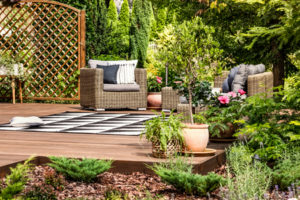 This year is all about bringing your indoor space outside. That's right, large sofas, comfy accent chairs, and patterned throw rugs will all be encouraged to incorporate into your outdoor space. The idea is to create a cozy spot in your yard for you to lounge for hours!
LED Lighting in Your Yard
For lighting, be prepared to see LED lighting in various forms around your yard. The goal is to keep your lighting both sleek and minimal. One way to incorporate LED lighting into your yard is by highlighting certain features in your yard. For example, if you have a large tree or a garden area, these are both great areas to spotlight. As well as spotlighting, it will also be popular to add strips of light to help highlight your walkways and steps.
Modern Fire Pits
Hosting a bonfire is the perfect way to gather your closest friends. Fire pits help make your space feel cozier, and they provide just enough heat to keep you and your friends warm on a cooler night. Plus, propane fire pits can easily tie into your outdoor furniture décor and can be used as a statement piece. If you want to be creative, try adding two twin fire pits to your yard!
Mixed Furniture Materials
Mixing and matching materials like concrete, oak, and metals will be strongly encouraged in 2020! Incorporate these materials through your furniture and accent pieces like baskets, benches, and other décor. You should also expect to see patterns and shapes incorporated in your furniture and rugs.
As for furniture patterns, stripes will be very popular this year. Use this pattern to help add lines of contrast in your outdoor living space!
There are so many different features the W.L. Construction team can incorporate into your outdoor living area when you rely on us to be your patio contractor! Let us help you create the patio of your dreams and give us a call at 541-738-2602.