Do you have a bathroom in your home that needs some extra attention? Although it may not be a top priority for you now, you often spend a lot of time in your bathroom. Therefore, you deserve a luxurious and relaxing place to get ready in the morning and at night. A simple renovation can make a significant difference in an outdated bathroom. If you notice any of these signs, then it may be time to remodel your bathroom!
Breaks and Leaks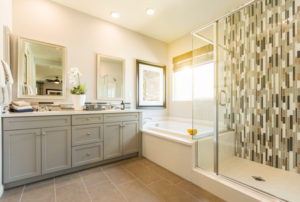 Your bathroom is a busy place, and it's no surprise that it's prone to some wear and tear. Over time, cracks and leaks can be common. If they're not addressed, cracks and leaks can cause severe damage and can be hazardous. Cracks in the tiles can store water, which will lead to mold formation. Leaks can cause water damage and can rot the interiors in your home, leading to costly repairs if not addressed quickly.
No Storage Space
Everything that you need in your bathroom should be within reach. If you find yourself having to store bathroom products in other rooms in the house, then it's time for an upgrade. If you need more storage, consider adding customized cabinet space or shelving. Even creating a more spacious vanity can help create more room for storage. You can keep it simple by adding decorative storage to stay on top of the vanity, or you can take it a step further and add his and her sinks to create more personalized space.
Your Needs Are Changing
As your family changes, so do your needs. You may find yourself needing more space or have a different taste from when you first moved in years ago. Your area should be a relaxing place that reflects you! Figure out what's the most important to your family, maybe it's adding a jacuzzi tub, a new paint color, or a larger mirror. These simple changes can make a more positive experience during your daily routines.
If any of these issues sound familiar, it may be time for a bathroom remodel. Deciding to remodel your bathroom will make your home more valuable and create a more relaxing experience for you. If you're looking for a reliable bathroom remodel, contact W.L. Construction Inc. We want to help give you the luxurious bathroom that you deserve!