Whether your laundry room is spacious or a tucked-away corner in your home, it's important to make sure your area is an enjoyable space. Because you spend a lot of your time in the laundry room, the last thing you want is to have an area overrun with clutter. To help keep your space under control, follow these organizational tips!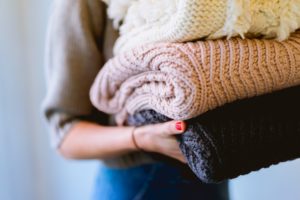 Add Shelving to Unused Spaces
Consider adding some shelving to help organize and create more space in your laundry room. Once you've installed your shelving, you can use this area to store your laundry supplies, and add decorative baskets to keep things tucked away. Plus, if you have children or pets, shelving helps keep cleaning products out of their reach!
Create a Folding Station
No matter the size of your space, you should always try and find an area to create a folding station. Having a designated spot to fold your clothes can help relieve some stress and make folding a more enjoyable task. For an option that doesn't take up too much space, try mounting a small piece of a counter onto your wall! This will help make your folding area look sleek and modern, while still conserving space.
Add a Laundry Drying Bar
As you know, not all clothes are meant to go in the dryer. They could even get ruined if they aren't dried correctly. One way to help preserve the quality of your clothes is to air dry them! Create the perfect space inside of your laundry room to conveniently air dry your clothes by adding a drying bar or rack.
Consolidate Your Laundry Products
It's easy to start to collecting different types of laundry products. We've all done it! However, when it comes to the necessary laundry products, you don't usually need too many. Consider selecting one detergent that works well with all fabrics rather than multiple specialty products. Also, make sure you're choosing a scent that you know you'll enjoy until you run out of your detergent.
Are you looking to revamp your laundry area? Let us help you create an organized and spacious laundry room! Contact W.L. Construction today at 541-738-2602 to start designing your dream room.