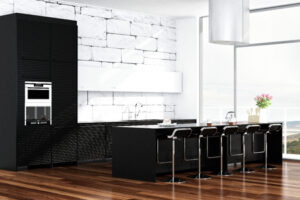 Black is quickly turning into the new white for kitchens. Although it may seem too dark for your room, black goes with virtually everything and is a great color to incorporate throughout your home. No matter the style of your kitchen, black features can easily be incorporated.
Whether you're looking to add a statement feature, or you wish to incorporate small black details to your home, here are some ideas for incorporating this gorgeous, deep color into your kitchen:
Black Floors Paired with Warm Toned Walls
If you're looking to turn your kitchen into a cozy area of your home, consider staining your floors black. Dark floors paired with white cabinetry and a warmer painted wall can make your kitchen feel taller and cozier. Encourage natural lighting to shine through your kitchen windows by adding bright window shades too!
Add Black Appliances to Make a Statements
Black appliances stand out in the kitchen like no other. They look sleek, clean, and pair well with many colors. If you want your kitchen to catch your guests' attention, consider pairing your shiny black appliances with pale painted kitchen color and brass hardware.
Colors like white, pale aqua, green, and grey are great examples of colors that pair well with black appliances.
Mix Black and Copper
If you'd consider your aesthetic to be more colonial inspired, consider adding hints of copper to your black cabinetry to complete your aesthetic. Copper also pairs well with stainless steel appliances and, when used together, creates a gorgeous kitchen design.
Start Small
Black is a powerful color. If you love the idea of incorporating dark features into your kitchen, but you're not ready to fully commit to changing the color of your kitchen, start small by incorporating a few statement pieces. Installing a sleek black sink on top of your white marble countertops is a great place to start! As darker kitchens start becoming more popular, you can find nearly any kitchen appliance in black, so there is plenty of ways that you can experiment.
Black Lower Cabinets Paired with White Tiled Floors
Glossy white tiled floors pair perfectly with black cabinets. To help open your kitchen, consider installing lower cabinets and use open shelves above your countertops for extra storage. Having a high-gloss finish on your cabinets and floors will also help maximize the light in your space.
Start Transitioning Your Kitchen Today
Are you ready to revamp your kitchen? Allow us to help! Contact our team at W.L. Construction today at 541-738-2602 for your free consultation!