An outdoor kitchen is a great option for those who enjoy spending time with family and friends in the open air. Whether you want something simple to prep, cook and eat at or you want to create a unique space that will wow visitors, the options are nearly endless.
Today, it isn't surprising to see bars, wood-fire ovens, prep areas and appliances added to outdoor kitchens to make them on par with any traditional kitchen.
When you're interested in adding an outdoor kitchen to your home, take a look at some of the more popular designs of late to get your creative juices flowing.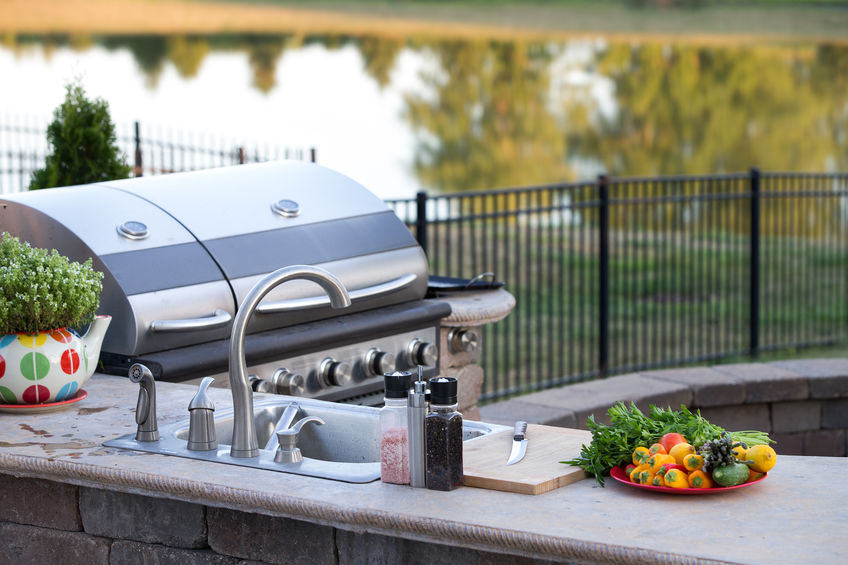 Add an island, prep area
An island or prep area placed next to the grill will make it easy to prepare meals and dish items out once they've been cooked.
With these two areas, you will have the ability to layout all the ingredients for your cookout and have access to them as you cook your meal.
This will also come in handy when you have taco night or another meal where you want to have a bunch of toppings spread out for your family or guests.
Consider adding a bar to your grill area
One of the more popular designs in recent years has been the adding of a bar to a grill area. If you have an outdoor kitchen, or are in the process of building one, you can extend it at the top or sides to create a comfortable and fun bar space.
This will be the perfect space for family parties or entertaining friends.
Mix things up with a pizza oven
Wood-fire ovens have seen a rise in popularity over the last few years but are now being added to outdoor kitchens for a slightly different reason.
If you prefer a fresh pizza over grilled meats, the adding of a wood-fire pizza oven will be an exciting edition to your outdoor kitchen. We recommend this if you have kids, as it can be a lot of fun for them to assist with making dinner or at parties with friends.
Add appliances, storage space
An indoor kitchen wouldn't be complete without appliances, and your outdoor kitchen shouldn't be any different. In the last few years more and more people have been adding appliances such as refrigerators, mini coolers, dish washers and more to their outdoor space.
It's also suggested to add storage space where you can store glasses and plates once they have been washed.
If you're interested in adding a new outdoor kitchen to your home, or need one remodeled, we invite you to reach out to our experienced team at W.L. Construction. We have been assisting home and business owners with their remodeling and construction needs for over 40 years and looking forward to lending a hand with your new outdoor kitchen or other project. Call us today at 541-738-2602.