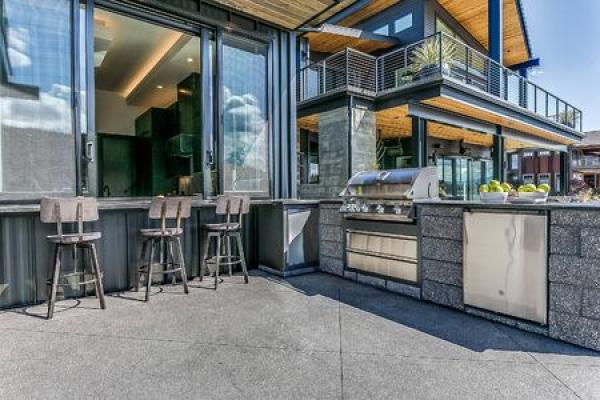 Spending time outdoors is vital for both our mental and physical health. It's nice to decompress and get fresh air, but it's especially great when you can do so in comfort.
Outdoor living – patios of all sizes – allows us to enjoy the serenity of the outdoors and the comfort of indoors. Plus, it gives you a space to entertain friends and family. If you're planning on adding an outdoor area to your home, consider some of these hot trends:
Outdoor Kitchens
This has been a hot trend for years now and for good reason: outdoor kitchens add to your quality of life in a significant way. They're incredibly convenient when hosting company, and they allow you to prepare more food and a wider variety of meals than just a typical grill. Plus, cooking outside can be a relaxing and pleasant experience, especially during the summer.
Merging Indoor and Outdoor Space
One of the recent trends in the world of outdoor living is blurring the lines that separate indoor and outdoor spaces. You can accomplish this by equipping your patio or outdoor space with furniture, flooring, and even décor that match your home's interior style. You can accomplish a seamless transition between inside and outside with an enclosed veranda, partially covered garden, or with folding glass doors.
Work From Home Space
The number of people who work from home is significantly higher in the United States than it was prior to the COVID-19 pandemic. While working from home can be convenient and save you time, it can also wear on you a bit. It's not easy to be stuck inside all day with no commute or office banter to break up the monotony. Working outside can be a nice change of pace, provided your outdoor space is properly equipped for it.
Sustainable Materials
More than ever, homeowners are concerned with being good stewards of the environment. Many are doing this by buying sustainable home décor, using biodegradable materials, and purchasing solar-powered lights, among other things.
If you're planning to have a patio or outdoor space built at your Corvalis, OR area home, WL Construction is the place to call. We can help you in the design process and also perform the pork to bring your dream outdoor space into reality. Call 541-738-2602 today for a free consultation!