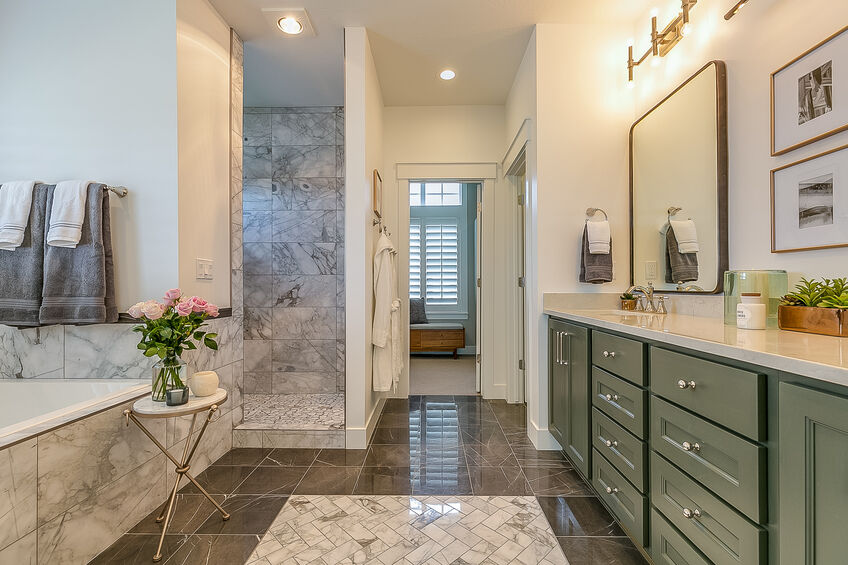 If it's been years since the last time you've had work done on your bathroom, you may be ready for an updated look to your space. If you find your bathroom's appearance is getting a little stale, there are several remodeling options that can turn your bathroom into an oasis.
Whether it be a modern bathroom with the latest design, a craftsmen bathroom with beautiful wood or a bathroom space with a classic look, there are so many options when it comes to transforming your space.
When you're ready to rework your bathroom into something that the entire family will love, we ask that you consider these three fun and beautiful options.
Modern bathroom with a sleek design
When you're looking for a simpler design with straight, clean lines and uncluttered spaces, a modern bathroom design is the perfect option for a remodel.
Modern bathrooms are meant to be sleek and sparse in their design but that doesn't mean you can't have fun with the layout and materials that you choose.
Whether it be a beautiful glass shower enclosure, vessel sinks to go above counters or anything in between, there are a variety of choices available that will give your bathroom the high-end appearance you require.
Craftsmen bathroom for those who love wood
Craftsman bathrooms are the perfect option for those who love rich wood cabinets, wood vanities and more. This woodwork goes great with stone and tile flooring and elegant lighting for a space you'll love for years to come.
These bathrooms can also feature glass shower enclosures with tile to match your flooring for a beautiful space.
Classic bathroom with a spa-like feel
If you want your bathroom to feel like your very own spa, a classic bathroom is the perfect option when remodeling.
Classic bathrooms feature a timeless, clean-lined aesthetic that includes everything from bathtubs to large windows, large wood vanities for storage and more.
No matter if you have a bathroom that is too cramped for your growing family or you simply want a new look and feel for the space, we ask that you think of our team at W.L. Construction.
We would love to get the opportunity to serve as your bathroom remodeling contractor in Corvallis, OR; Albany, OR; Lebanon, OR; Philomath, OR; Salem, OR and the surrounding areas.
We can perform everything from a small bathroom remodel to a complete tear out for more extensive remodeling needs.
For a free consultation or to discuss your bathroom remodeling ideas in further detail, we ask that you reach out to our friendly and experienced crew today at 541-738-2602. We look forward to getting to work on your bathroom soon!