Is your basement unfinished? If so, it's time to start remodeling! Your basement is a large area that's great for storage, but you can also use it to make another enjoyable room in your home. If you're thinking about remodeling, let us help!
Use these basement remodeling ideas to help increase your living space: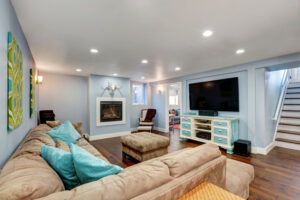 Create Another Family Room
Because basements are usually large, they are a great space to host get-togethers for the whole family. Add a T.V., maybe a pool table, and other games and activities for the entire family to enjoy.
Plus, make sure you include floor lamps, a coffee table, and comfortable couches for your guests to gather around.
Add a Bedroom to Your Home
Is it getting a little too crowded upstairs? A basement bedroom is an excellent addition to your home, and it's the perfect spot for a new guest room. Depending on your basement's size, you can typically fit either a double or a twin bed comfortably. Plus, don't forget that you can add extra decor to make it feel just like a cozy bedroom.
Keep in mind that building codes require that basement bedrooms have emergency exits that lead outside. This can be either through a door or window. 
Finishing Your Basement Ceiling
Because unfinished basements typically have exposed pipes and ductwork, it's best to cover them up if you're trying to make it a livable space. You can easily conceal the open ductwork with drywall or paneling.
Drywall is an excellent option because it brings the same look as your rooms on your home's main level. Plus, you can paint it in different colors to help give it a smooth finish.
Add Built-In Storage
Since most families use their basement as extra storage space, you may not want to sacrifice that space to make another room. However, it is possible to have both!
As you remodel, plan for attractive, useful storage to incorporate into your basement. Whether that's decorative shelves or built-in storage closets, we promise you can still use your basement as a storage space even if you want to make it another room of the house.
How to Design Your Perfect Basement
Are you looking to finally finish your basement? Contact W.L. Construction today at 541-738-2602 to start designing your perfect basement. We'll even give you a free consultation!