If you're looking for a way to add value to your home, consider renovating your bathroom. Your bathroom is one of the most used rooms in your home, so it's important to focus on renovations that will serve you and your family for years!
If you're ready to take the next steps to remodel your bathroom this year, consider making one of these changes to improve your bathroom's functionality and comfort.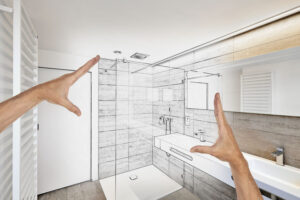 Upgrade Your Bathrooms Hardware
Are your faucets and drawer knobs outdated? Replacing your bathroom hardware with current design trends can make your bathroom look flawless and brand new. Gold accents, brushed metals, stainless steel, and nickel are all popular hardware choices. 
Add Additional Shelving Everywhere
Built-in storage in your bathroom is one of the most functional additions you can make! Everyone always loves when rooms have additional storage. If you have a master bathroom, try adding shelves between the sink. It's the perfect solution to help you keep clutter off of your counter, store your everyday items, and adds style! 
You can add additional hooks to your sink or the back of a shelf to increase storage space. It's also the perfect place to hang bath towels, hand towels, or robes! 
Update Your Shower
You use your shower every day, so it's worth making it stand out. You can start by upgrading your bathroom tile. In recent remodels, clients, add tiles with matte finishes, steel gray colors, and fun geometric shapes. 
You can also use this opportunity to add the sleek sliding glass doors or the shower bench you always envisioned. 
Are You Going to Use a Bathtub?
If you enjoy taking baths, it's worth the investment to add a soaking tub into your bathroom. However, if you don't typically enjoy using your current bathtub, it may be time to remove it. Bathtubs take up a lot of space in your bathroom, so remove it and use the space for something else if you don't plan to use it. 
Keep in mind that bathtubs also provide amazing spa-like relaxation. If you plan to put your house on the market soon, you may want to consider adding a bathtub.
Is It Time to Remodel Your Bathroom?
If you're ready to remodel your bathroom, make sure you contact W.L. Construction Inc. We want to help give you the bathroom you always dreamed of!
Give us a call today at 541-738-2602 to learn more about our services.